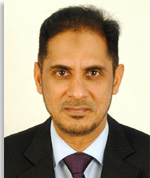 Dr. Sharif completed his Ph.D. in the field of General Relativity and Cosmology. He has the diversity in his research work. He has published some work on symmetries, energy problem, gravitational collapse, black holes and some alternative theories of general relativity. In particular, he has published some recent work on accelerating universe through different models of dark energy in f(R), f(T), f(G) and BD theories of gravity in addition to general relativity. He has published 612 research papers in journals of International repute with total IF 1477. His work has largely been cited and total citation is more than 12000. His h-index is 50 and i10-index is 350. He has delivered more than 118 lectures in different workshops, seminars and conferences at local and International level.
He has successfully completed two postdoctoral Fellowships in S. Korea as well as UK and also completed three Research Projects. He has been on top of Research Productivity Award by PCST since its inception 2001. He has been awarded Dr. Raziuddin Siddiqui Prize & Gold Medal for his good quality research during 2002. He has been awarded civil awards like Izaz-Fazeelat (2007) and Tamgha-i-Imtiaz (2008), Best University Teacher Award (2008) by HEC and Pakistan Academy of Sciences Gold Medal (2009). He has also been awarded twice Best Research Paper Award by HEC during 2009 and 2015. He has been conferred the title of HEC Distinguished National Professor by HEC during 2010 and has also been elected Fellow, PAS during the same year. Recently, he has been included among World's Top 2% researchers in Stanford University list (2020 and 2021).
Currently, he has been serving as a Dean, Faculty of Science University of the Punjab. He has visited number of countries to deliver lectures and also as a Research Fellow as well as Associate Member of TWAS. He has been Editor of the proceedings and Journal. He has been member of different International societies and acting as a referee for a number of International journals. He has been supervising MPhil and PhD students under the indigenous fellowship program of HEC and has produced 29 PhD and 82 MPhil scholars. Some more MPhil/PhD research scholars are in progress. He has organized a number of successful National/International Symposium/ Conferences/Seminars on Relativity at Punjab University.